Are you looking for anniversary box ideas for him? While there are traditional anniversary gifts for each year you and your love celebrate together, putting together an anniversary box is an incredible way to show your honey how you really feel. Whether this anniversary is paper, leather, or silver for you two, there are some awesome anniversary box ideas for him that are an excellent way to bundle perfect gifts for your love together!
Anniversary Explosion Boxes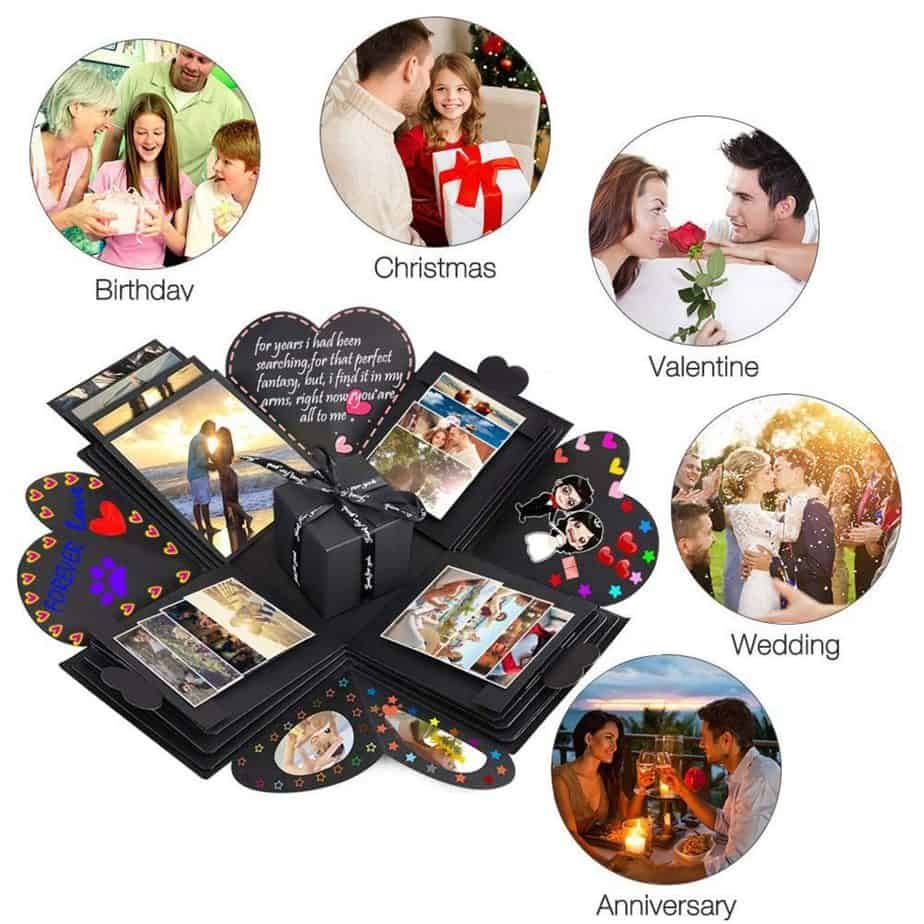 First, we have to talk explosion boxes! These are so sweet and cute, it's no wonder they have exploded in popularity over the last few years—sorry, we just couldn't resist with that one.
Explosion box anniversary gifts are such a lovely way to walk your sweetheart down Memory Lane; if you're feeling crafty, you can follow a DIY tutorial, or let someone else put it together for you, but either way, explosion anniversary boxes are wonderful for keepsake anniversary mementos.
"Reasons Why I Love You" Anniversary Box
You know all the little things that your love does that still secretly make your heart skip a beat, even after all this time? Write those bad boys down and put them in a box for your hubby so he can be in on this secret, too!
I wrote my own "Reasons Why I Love You" list if you'd like to get some ideas for your own list, and you'll also find some clever ways to package your "Reasons Why I Love You" list, too! It can be as simple as handwritten notecards or as involved as including mini-gifts that help illustrate your Reasons Why, like maybe a computer keychain with a note that says, "I love you because you are our resident Tech Whiz" or other cute little trinkets like that.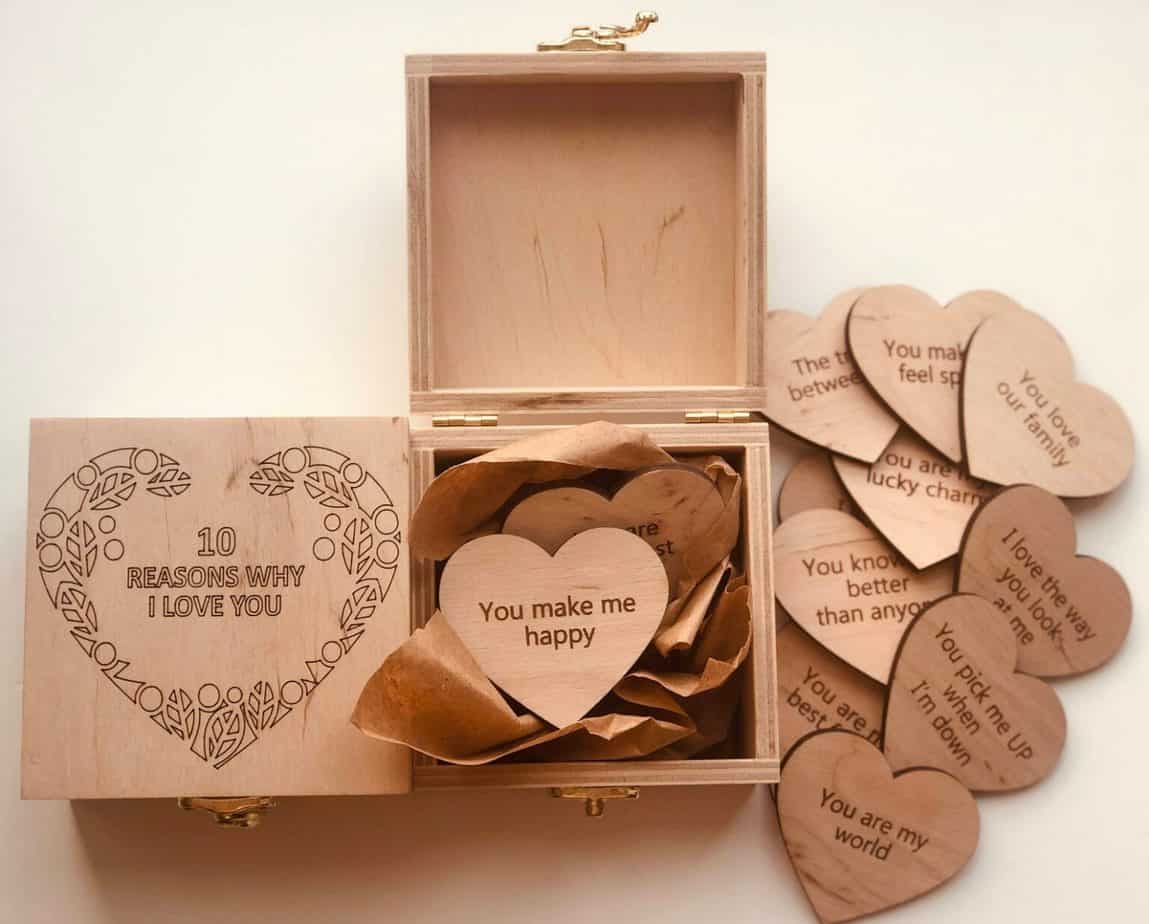 You can also outsource and have one of these gorgeous wooden anniversary boxes made with heart-shaped Reasons Why I Love You printed on them, too! Reminding your man of all the things you love about him is never a bad move.
Pamper Him Grooming Goods Anniversary Box
Men need pampering, too, even if they don't realize it/won't admit it! Make your man an anniversary gift box with all the grooming goods he needs to make him feel every inch a man—a very fresh, clean, great-smelling man, of course.
There are plenty of ready-made spa/grooming/pamper him boxes out there, like this Man Spa Gift Box, featuring Black Sea Salt soap and scrub, beard oil, and muscle rub, or you can create your own using your love's favorite shower products, beard grooming goodies, or other body treatment items that you think he might like. Plus, if you include something like luxurious bath salts, there's a decent chance you just might be invited to join in for the soaking! Everyone deserves a little pampering every now and again, don't you think?
Get Your Game On Anniversary Box
Couples who play together, stay together. Really and truly, it's an amazing way to show love and affection, and being playful helps keep things spicy in long-term relationships, too! Make your favorite person an anniversary box filled with fun things to do together, whether it's board game/card game type activities, or tickets to/plans for fun things to do together.
There are lots of fun (and sometimes naughty) card games to choose from, or you can take a regular ol' game like Jenga/tumbling tower blocks and update them into a more risqué couple's version! Really, any classic board game can be made a little more "adult" by playing it with strip Poker rules, right?
Include a Monopoly board like this adorable Vintage Bookshelf Edition and maybe someday you can play some strip Monopoly together… by the end of the game, someone might end up flipping the board, but it won't be out of rage!
Feed Him His Favorites Anniversary Box
Okay, this one is pretty self-explanatory; you can 100% just toss his favorites in a box and call it a day, or you can put a bit of a spin on it and include tastes from important moments in your life together. Maybe you could include a bottle of the soda you two shared on your 3rd date when you ended up locked out of the car and sat together on the curb waiting for the locksmith, sharing a drink out of the vending machine together as you laughed and learned more about each other, or maybe you could include a coupon for the Korean BBQ place you went to on your first date that you've somehow never made it back to since.
There are a ton of great specialty anniversary boxes with delicious goodies you can order, or you can personalize it to include some flavors from some of your favorite moments together. You know your man, is he into meat and cheese, sweet and spicy, or more chocolate decadence? Either way, if food is the way to a man's heart and you're already there, a little more yum certainly won't hurt!
Nice and Naughty Anniversary Box
Sometimes it's best to be both naughty and nice, don't you think? Let your love know how much you still want and desire him by putting together some fun things to keep you two entertained all year long! You can include naughty game cards, a naughty token box, lingerie you will wear for him; you could even set up lingerie for different times of the year: Valentine's Day lingerie, St Patrick's Day lingerie, 4th of July lingerie, Halloween lingerie, Christmas lingerie, the sky is the limit, really!
You could even have some enticing boudoir photos taken for him; there's not a man alive that doesn't love to see his woman feeling and looking her best for him, is there? Here's a great option for a premade Steamy Anniversary Box, but honestly, anything you put in your Nice and Naughty anniversary box is sure to be a hit as long as it's a promise of more intimate time with you.
Love Drunk Anniversary Box
Does your man still make you feel love drunk? Do you still get a little weak in the knees when he gives you "that look?" Return the favor by getting him some goodies so he can enjoy his favorite adult beverages in the sweetest way possible with some special-order items to commemorate the date!
Is your man a beer drinker? Check out The Brewski Crate, which comes with two personalized pint glasses and a matching bottle opener. Or, if your person prefers a smooth whiskey over a cold brew, look into getting him a Whiskey Crate with two personalized rocks glasses, ice sphere molds, slate coasters, a whiskey-drinking journal to track what he's sampling, and more! Personalize with your names and the date you got together, or as Man Crates suggests, "Cheers to X Years." How fabulous is that???
Adventure Awaits Us Anniversary Box
Are you and your honey into adventuring together? Awesome! Plan for some future adventures together with this anniversary box meant to inspire you to keep venturing out into the world together. Are there places you two have talked about going and exploring together but you just haven't made it happen yet? Well, now's your chance to take one step closer to making it happen for your love.
Consider including an itinerary with a calendar and dates blocked off where you plan to make the adventures happen, and include any little items you might need for the adventures, like sunscreen, bug spray, sunglasses, etc.
Have you guys been talking about an autumn Maine getaway for years? Include some info about the best whale-watching, where to go to see moose, where the best places to visit are, cutest small towns, best lobster pounds and fry shacks… this last one is VERY important! Show your love how much you appreciate your adventures together by planning for the next one.
Dream Dates Anniversary Box
What better way to tell your love how much you love spending time with him than to plan to spend more of it with him! Dream Date ideas could be fun stuff like Date Night Adventure scratch-off cards (this one is specifically for Outdoor Dates) where you go on "surprise" dates together, or they could be nights spent cozied up together furiously working to solve a cold case… Seriously, if you guys are into True Crime stuff, this could be the ultimate Dream Date!
There are lots of cool date night subscription boxes out there you can choose from, too, so look around to find the best fit for you and your beau. Maybe you guys are more into popping open a bottle of vino and relaxing back into the couch to watch your favorite romantic movie than you are into solving murder mysteries. You know you and your man best, fill his anniversary box with the things he (and you) will love to do together!
Couple's Bucket List Anniversary Box

What's on your shared bucket list together? Create your very own couple's bucket list that you can put somewhere in your home where you two will see it often and keep each other motivated to keep sharing those experiences together!
Do you guys love to travel? Consider putting in something like this gorgeous world map with push pins and a travel journal to keep track of all the places you've made it to together. Download a cute bucket list template to personalize and include a few little things to help motivate you to achieve them; maybe you guys have talked about having a spa vacation… include a brochure for the spas you're looking at and a couple of eye masks. Show your sweetie you're always thinking about your shared future together with this bucket list anniversary box!
We know your official anniversary isn't the only relationship milestone worth celebrating, so you can use these anniversary box ideas for him for any particular anniversary you and your man happen to be celebrating. Is it even possible to celebrate your love too much? We don't think so!
Check out these posts about relationships:
---
Amy Hartle is the author of Do You Love Me? How To Stop Seeking Reassurance in Relationships, a book on reassurance seeking and relationship anxiety. Both her book and this blog are born of personal experience; Amy shares expert relationship advice from the lessons learned during her own 10+ years with her husband, as well as couples travel tips and romantic getaway recommendations, all gleaned while traveling the world together.